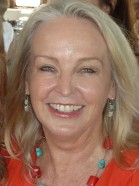 Annie Wright's extensive background in promotions, marketing and publicity began in the music industry over thirty years ago with RCA Records in 1974. Her career commenced in the publicity department and during her six years tenure honed her skills in various capacities of record management.
Annie joined Australia's leading independent label Mushroom Records in 1980 to open and manage the Sydney branch. During this time she successfully handled the touring publicity for Frontier Touring Company another division Michael Gudinski's company for three years. This was followed by a posting to the United States in 1982 during 'the Australian music invasion' to establish and direct the US operations of Mushroom records named OZ Records located at A&M Records in Los Angeles
In the course of her work with both labels she handled marketing, publicity and concert tours for the likes of Abba, Eurythmics, David Bowie, Lou Reed, Crosby Stills and Nash, John Denver, Police, Devo, Stray Cats, George Thorogood, UB40, Robert Palmer, Renee Geyer, Paul Kelly, Split Enz, Hunters and Collectors, INXS, Midnight Oil, The Black Sorrows, Marcia Hines and Mental As Anything.
While in The US, Annie furthered her skills in the film industry embarking into a successful career as a unit film publicist, working on location, implementing publicity campaigns for feature films from writing media kits to orchestrating press junkets with high profile actors and distinguished filmmakers in over thirty films both in the US and Australia.
These have included: Francis Coppola, George Lucas, Alan Parker, Barbet Schroeder, Alex Cox, Robert de Niro, Marlee Matlin, Joe Strummer, Mickey Rourke , Faye Dunaway. Jack Thompson, Greta Scacchi, Bryan Brown, Russell Crowe, Hugo Weaving, Colin Friels, Wendy Hughes and Ruth Cracknell and many others.
On her return to Sydney, Australia in 1988, Annie opened her publicity consultancy Annie Wright Publicity. From that time she has organised highly successful publicity campaigns for many auspicious names in music, film, television, literature, health and business. Annie continues to combine her passion for both music and film.
Contact Annie +61 417 271 820
Click here for client list
Annie Wright Publicity clients have included:
REP Films
Beyond Films
Channel Ten
Village Roadshow
Film Australia
Lucas film
Zoetrope Films
Mushroom Records
BMG Records
Channel Nine
SBS TV
Showtime
Harry M Miller & Co
Parkinson's NSW
Mill Valley Film Festival
Magabala Books
Steve Parish
Festival Records
ABC TV
Jack Thompson
Greta Scacchi
Russell Crowe
Bryan Brown
Rachel Ward
Anna Maria Monticelli
John Bradshaw
Phillip Emanuel Productions
John Kehoe
Dr Chris Green
Artist Max Mannix
Wayne Gardner
Transworld Publishers
Personal manager to Renee Geyer
FOX Studios
Philip McLaren
Archbishop Desmond Tutu
Senator John Button
Tom Uren